Today's important news regarding the Ukraine crisis, which I will update throughout my day.
Violence Erupts in Donetsk:  A large group of pro-unionists and a smaller group of pro-federalists clashed in Donetsk today.  Fourteen injuries have been reported.
---
Protesters Storm Privatbank Headquarters in Donetsk:  Jewish billionaire oligarch Igor Kolomoisky, who was appointed governor of Dnepropetrovsk by the junta in early March, is at the forefront of a campaign to pay $10,000 "bounties" for the capture of every "green man".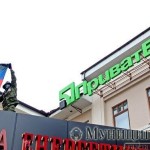 Kolomoisky's primary asset is his co-ownership of Ukrainian bank Privatbank.  Since that time protesters have damaged a large number of Privatbank's ATMs in outrage.  Today, protesters took control of Privatbank's headquarters in Donetsk and hoisted the Donetsk Republic flag.
---
Ukraine to Sue Gazprom:  Ukraine officials have initiated arbitration proceedings against Gazprom, claiming the contractual price is too high. As Russian president Putin pointed out in a letter sent to heads of state of numerous European gas customers, the contract was negotiated in January 2009, while a pro-European government was in power in Kiev in the wake of the so-called "Orange Revolution".  Indeed the "gas princess" Yulia Tymoshenko was involved in the negotiations, and was eventually imprisoned by the Yanukovych government for her role in them.  Ukraine's gas debt to Russia stands at around $2.2 billion.
---
Ukraine Law Declares Crimea "Occupied Territory":  Ukraine's acting president Aleksandr Turchinov has signed a law, which barely passed in the Ukrainian Verkhovna Rada (parliament), declaring both Crimea and Sevastopol, both of which were recently reunited with Russia, as "temporarily occupied territories."
---
US Expands Sanctions:  US rolls out new "targeted" sanctions against seven Russian individuals and 17 companies, which Washington claims are "linked to Putin's inner circle".
---
Kharkov Mayor Gennady Kernes Shot:  Kharkov mayor, fitness buff and Jewish oligarch Gennady Kernes was shot by a sniper in the back while cycling outside Kharkov. After surgery he remains in serious condition.  Kharkov is Ukraine's second largest city and a former capitol of the country.
In early March, after the coup, Kernes came out in support of a federalization referendum, against the dictates of the coup government; he changed his mind publicly when special forces ousted protesters from Kharkov's administration building.  Kernes has since reported dozens of threats to him and his family by former Kharkov governor and acting coup interior minister Arsen Avakov.